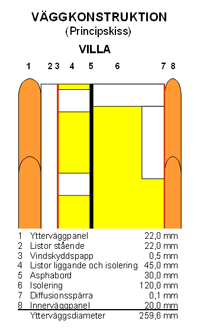 PROJEKT MOSJÖN AB orientates as a constructor of self-developed house models with a modern interpretation of the traditional Scandinavian way of building regarding construction,, heat insulation and comfort. Our standard is to deliver the houses ready for occupation situated on concrete slab and with the following capacity:
• Concrete slab with waterborne underfloor heating
• Frame raising of block construction with outer reclining panel, , 195 mm outer wall insulation (leisure cottages 155 mm), reclining inner wall panel (or plaster-board , prepared for wallpapering)
• Solid corner boards (enclosed corners as an alternative)
• Black or red roofing tile (leisure cottages shingle)
• Outer wall lighting
• Large terrace areas
• Ceiling panel
• Interior wall height on the ground floor: 2,45 metres; on the first floor: 2,40 metres or open up to the ridge
• Wooden stairs
• Floor: parquet , leisure cottages: laminate
• Windows and doors with a three glass heat insulation (holiday cottages two glass)
• Stove and fireplace with large heat input and thermal glass door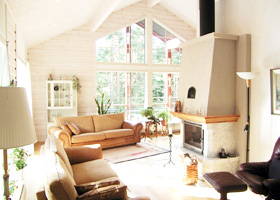 • Kitchen fully equippe. according to . design
• Heater: NIBE. Air/Water heat pumps, Different systems available after agreement
• Clinkers and tile in all the bathing, shower and washing areas and entrances according to design
• Wet space complete according to. design
• Sauna fully equipped according to. design
• Outer and inner painting
• Villas including energy balance calculation of Claim.
The design solutions - of the different areas can be changed and balcony and bay window installed in accordance with demand and agreement: It is also possible to agree on a different heating system e.g. earth or air heating.
To see the fronts or the design solutions, please click on the Models.