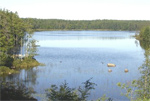 Fastighetsplan svenska (PDF)

Fastighetsplan deutsch (PDF)

Fastighetsplan englisch (PDF)

Småland, Kalmar County, the area of Nybro, about 24 kilometres south of Nybro overlooking the lake of Mosjön, 15 out of 17 grounds have already been sold. For information about parcelling out click on the picture to the right. Details about the building can be found under the models.